Bathrooms
The Trail de Paris has 3-three operational bathroom facilities.
One bathroom is located at the east end of the Sports Complex/Pavilion.
The other two are portable restrooms.
One is located adjacent to the Trail behind The Results Company building where the main east/west Trail section intersects with the south Trail extension to the Sports Complex/Civic Center.
The other is located at the Morningside trailhead entrance off Old Clarksville Road and across from the Red River Valley Boys & Girls Club parking lot.
Parking
Currently, there are 8 Trailheads that have parking areas
12th SE Street-2-vehicle parking spot.
Southwest Noyes Stadium parking lot.
Northwest and Northeast parking areas off Collegiate Street.
Sports Complex/Outdoor Covered Pavilion Parking lot.
Parking area behind The Results Company.
Parking area behind PCA Medical Complex.
Red River Valley Boys/Girls Club Sports Complex parking lot.
Parking lot at the intersection of 3rd Street SW and West Hearne Streets.
Wow! You can start your trail trek at a different location every day of the week!
Mileage Markers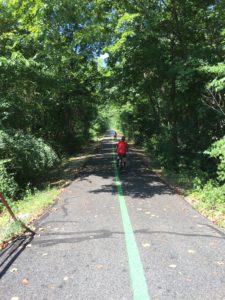 The 1/4-mile markers on the Trail de Paris are courtesy of the Paris Rotary Club. Each marker is numbered and markers are located 1/4-mile from one another. Mile marker #1 is placed 1/4-mile west of Paris' east city limits. The marker numbers increase numerically as you proceed west to the current Trail end at 8th SE Street. Therefore, one can start anywhere on the Trail and calculate the distance traveled. The formula is: If you enter the Trail and proceed west the markers increase by 1/4-mile each. When you proceed east the markers decrease by 1/4-mile each.
Example: Enter Trail at marker #10 and proceed west to marker #12, you have traveled 1/2 mile or if you proceeded east to marker #6 you have gone 1-mile.
Trail Center Stripe
Different color coded Center stripes have been painted on the Trail to synchronize the trail sections with the city's emergency preparedness zones. This will aid emergency medical vehicles and city police to access urgent situations.
"Share the Trail" Two-Way Access Arrows
At every Trailhead entry/exit point, 1/4-mile marker, and Trail curve, two-way arrows have been painted on the Trail to remind Trail users the Trail is for two-way traffic. All users are to stay to the right. Bicyclists passing users are to vocalize "On your Left" and pass right lane users on their left.
Hours
The Trail de Paris is a City of Paris linear park and is open from 30 minutes before dawn until 30 minutes after dusk via city ordinance. The Trail is not lighted so plan your walk in time to return to return to the trailhead that you parked at before dark.