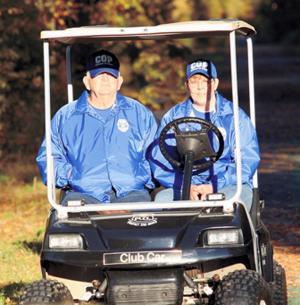 The Citizens Police Academy (CPA) / Citizens On Patrol (COP) is designed to support the functions on the Paris Police Department by, at times, performing non-emergency tasks such as checking for street lights that are burned out or not working, performing neighborhood patrols, and patrolling the Trail de Paris.
Special Thanks to Paris PD & COP
Chief Hundley has graciously offered an opportunity for volunteers, 18 and over, to reserve dates and times to use a golf cart on the Trail, greeting users of the Trail and reporting anything that needs attention. The unit will be referred to as the Trail Courtesy Patrol.
To become a member of the Trail Courtesy Patrol, or to learn more information, please email traildeparis@yahoo.com. The volunteers will pick up the golf cart at the main office of the Paris Police Department. Instructions on how to operate the the golf cart will be provided. Grab a friend, climb on board and become an ambassador of the Trail!